We are experts in the field of Packing Service
Moving is a huge task and can be a time consuming hassle. Wondering if all of your belongings will make it in one piece and won't get lost can be overwhelming. If you don't have the time to pack up your entire home or just a few special items before your big move, call Joshua's Moving & Packing Service.
Packing Service at Joshua's Moving & Packing Service
Our moving company provides exceptional packing service so you can feel at ease about your possessions arriving safely. When you hire us there's no need to feel nervous about your fine china making it to your new house without breaking. Our professional local movers allow you to sit back and relax. Moving should be exciting, so call us today and we can get started on packing up your breakables.
We even offer hoisting service so you can trust that your more heavier furniture and appliances will be placed in your new home or office undamaged. Whatever you need packaged and moved, we've got the moving labor to do it. Look no further for the perfect full service moving service, with us you can trust that your possessions are in good hands. If you are in need of a packing service, call Joshua's Moving & Packing Service today!
For more information or to schedule a free estimate, give us a call today at
(415) 499-2093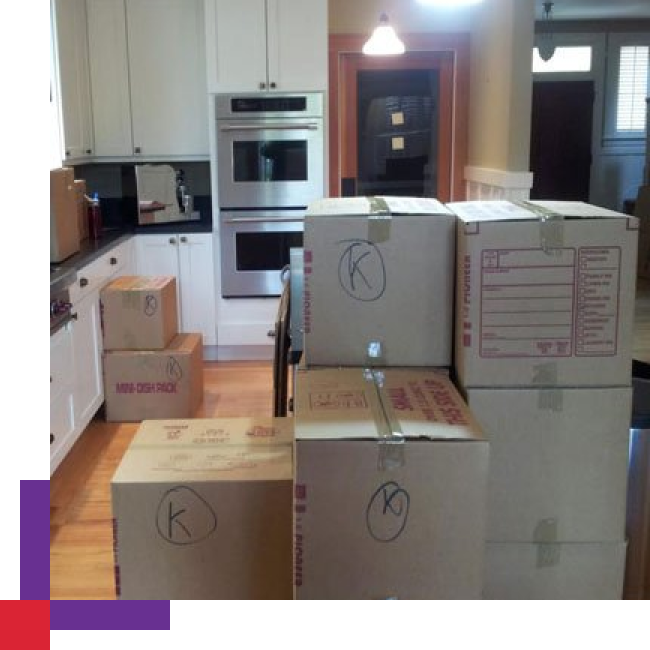 Excellent
4.7
★
★
★
★
☆
Based on 50 reviews from
review us on
Jennie Y
★★★★★
The movers that we worked with at Joshua's Moving were kind, efficient, speedy and careful! These are qualities that you want in movers and I would definitely recommend them to anyone. C. Joshua came over to assess our space and review furniture moving needs for free before we even signed a contract. They gave me a couple pricing options with different number of movers and in the end the total cost was very reasonable. As an added bonus, none of our items broke during the transition!
Amber
★★★★★
I was planning to fly to California to help my daughter move out of her dorm room and into a storage unit, but she was able to leave a week early and needed help. I called a couple moving companies with good ratings on Google. Most of them were booked and unavailable last minute.Joshua's worked with me to schedule a time for their moving crew to help her move her stuff in between other moves.We did have a bit of a communication hiccup on the day of the move. We had a 1hr window when we expected the guys to show up, and they were going to call my daughter 20 min before they showed up. They were a bit late and nobody called until they arrived, but it worked out.It was pretty expensive (but on par with every other company I called). They charge a 3 hour minimum. It took them less than 2 hours to get all the stuff moved, so it was pretty expensive, but they did a really good job. They wrapped all of her valuables, and were careful with all of her things, and they treated my daughter with patience and professionalism.My daughter said it was so much easier and less stressful than when we do the move ourselves, so even though it was more expensive than me flying to California and renting a u-haul and doing it myself, I'll probably pay them to do it again in the fall.
Christian S.
★★★★★
Wow! They are the best moving company around!! They moved everything out my old apartment, transported it and moved everything into my new apartment in 45 minutes!! Not a single item was dirty or damaged.The crew came with 3 amazing guys! They were the kindest people you could have ever met, even smiling after carrying a mattress up a three story apartment building.1000% the best customer service I've ever experienced out of anytime I've been a customer somewhere!Plus, scheduling was a breeze. All I had to do was email with some dates and they booked me right away. Joshua has a super fast reply time to calls, emails and texts.It was expensive but SOOO worth it!!
Stephanie C.
★★★★★
I had Fernando, Simon and Carlos out to help me move. These guys are amazing. They worked non-stop and got everything out of my old house and into my new house quickly. It was worth every penny!
Tania D.
★★★★★
Joshua's team was so efficient, quick and attentive. My tenant was not only happy but relieved, Joshua was accommodating and will continue to make business with him and his team.:)
f A
★★★★★
I had a great experience hiring Joshua's moving company for moving items out of a storage unit into my home. Comancho and William were very professional and fast. They arrived a few minutes before our time started, were very careful with the items and meticulous about not hitting any corners or walls when they brought the items into the home. I would definitely hire them again.The company has a very fair policy of not rounding up time after the 2 hour minimum is met. They divide the hour into quarters and charge 1/4 of their hourly rate for each 15 minutes separately. My job took 3.5 hours. This way I only paid for exactly 3.5 hours of work.